Name: Thor, The God of Thunder, Lord of Asgard, Odinson, and many many others.
Race: Æsir, more commonly known as 'Asgardian'.
Gender: Male
Class: God.
Description: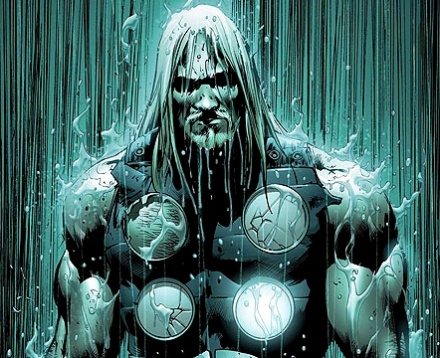 Age: 3091 years old (he was born in 1080 BC)
Chaos/Order Rank: N/A
Special Skills: As the son of Odin and Gaea, Thor's strength, endurance and resistance to injury are greater than the vast majority of his superhuman race. He is extremely long-lived (though not completely immune to aging), immune to conventional disease and highly resistant to injury. His flesh and bones are several times denser than a human's.
As Lord of Asgard, Thor possessed the Odinforce, which enabled him to tap into the near-infinite resources of cosmic and mystical energies, enhancing all of his abilities. With the vast magical power of the Odinforce, Thor was even able to dent Captain America's virtually indestructible shield with Mjolnir.
Thor is trained in the arts of war, being a superbly skilled warrior, highly proficient in hand-to-hand combat, swordsmanship and hammer throwing.
Thor possesses the Belt of Strength that doubles his strength, but weakens him after its use; a pair of iron gauntlets to protect him when unleashing Mjolnir's most powerful energies; and a chariot drawn by two goats, Toothgnasher and Toothgrinder.
Thor wields Mjolnir, a hammer forged from uru metal. Mjolnir is virtually unbreakable, and allows Thor to command the powers of the storm, causing rain, thunder and lightning. Thor can channel the storm's fury into devastating blasts of energy that can destroy even secondary Adamantium. He can also channel his godly energies through Mjolnir into blasts so powerful that they can slay even immortals. Mjolnir can absorb other energies into itself, which Thor can then release.
Mjolnir obeys Thor's commands as though it were alive, and if Thor's will is strong enough, the hammer can pass through nearly any barrier to reach him should he so desire. Using this command over Mjolnir's flight path, Thor is able to use the hammer to fly, achieving escape velocities. Mjolnir can also transform Thor into his civilian guises. When Thor is a civilian, the hammer most often becomes an old wooden cane. While employing a mortal guise, Thor will transform back into his mortal form should he be separated from Mjolnir for more than 60 seconds.
By spinning Mjolnir in a circle, Thor can open portals to other dimensions. Formerly, it also allowed him to travel in time, but Immortus removed this power. Enchantments surrounding Mjolnir prevent it from being wielded by anyone except those who have been found worthy. Thus far, this includes Thor, Odin, Tiwaz, Red Norvell, Beta Ray Bill, Captain America and Eric Masterson. To anyone else, Mjolnir cannot be lifted from the ground nor wrested from Thor's grip.
History: While Thor continued to engage in many heroic battles and adventures through the years, he grew headstrong and proud. On one occasion, Thor broke a truce between the Asgardians and their enemies, the brutal Frost Giants, nearly starting a war. To teach his son a lesson in humility, Odin sent Thor to Earth in the mortal body of a crippled medical student, Donald Blake. Stripped of his hammer, his powers and memories of being an Asgardian, Thor, as Blake, graduated medical school with top honors, gained a reputation as a caring family doctor and a brilliant surgeon, and opened a private practice in New York City. He worked beside a caring and skillful nurse, Jane Foster, and the two fell in love.
After 10 years on Earth, Blake received a subconscious prodding from Odin to vacation in Norway where alien Kronans were preparing to invade Earth. Fleeing into a cave (which, unbeknownst to him, was also his birthplace) Blake discovered a plain walking cane in a secret chamber. When Blake struck the cane against a boulder, he transformed into Thor while the cane became Mjolnir. Thor fought against the Kronans and their invasion was thwarted. Tapping the ground with Mjolnir, Thor was able to transform back into Don Blake, holding the simple wooden cane once again.
Having returned to his true form, Thor set out to make good out of Evil, making it his mission to fight evil, on Earth and the other Eight Realms.
Monkey





Posts

: 6


Join date

: 2012-04-20



Admin




Posts

: 207


Join date

: 2011-04-11


Age

: 24



Monkey





Posts

: 6


Join date

: 2012-04-20



Good enough for me. Approved.

Admin




Posts

: 207


Join date

: 2011-04-11


Age

: 24





Similar topics
---
Permissions in this forum:
You
cannot
reply to topics in this forum